20 July 2023
CSOs Publish New Community Guide on Engaging with the African Development Bank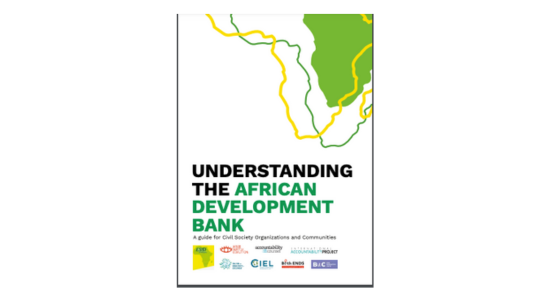 As members of the CSO Working Group on the African Development Bank (AfDB), Accountability Counsel, Arab Watch Coalition, Bank Information Center (BIC), Both ENDS, Center for International Environmental Law (CIEL), Coalition for Human Rights in Development, International Accountability Project (IAP), and Lumière Synergie pour le Développement (LSD) recently published Understanding the AfDB: A Guide for CSOs and Communities. This toolkit (available in English and French) provides:
an overview of what the African Development Bank (AfDB) is and how it works;

information on key safeguard policies and how to submit complaints to the Independent Recourse Mechanism (IRM); and

advocacy tips on how CSOs and human rights defenders can engage with the bank and demand respect for human rights, when they're violated in the context of the AfDB projects.
We hope that this toolkit will help civil society organizations and communities effectively engage in the AfDB's activities and hold the bank accountable to its development mission and for the impacts of its projects. Follow the link to learn more about Accountability Counsel's advocacy for strengthening accountability at the AfDB.