13 October 2021
IAMs and CSOs Address COVID-19's Impact on Communities' Access to Justice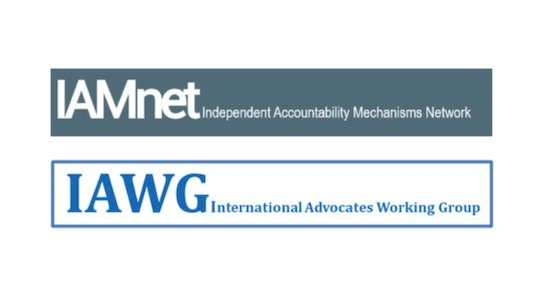 The COVID-19 pandemic has posed challenges in all aspects and sectors of life, including in the handling of complaints of harm caused by internationally financed projects. These challenges include communicating virtually with project-affected communities, many of whom have limited internet access, and monitoring progress on the implementation of remedial actions without being able to travel to project sites. Last month, representatives from 50 civil society organizations, including many members of the International Advocates' Working Group, and the independent accountability mechanisms (IAMs) of 19 development finance institutions (DFIs) gathered for a virtual roundtable to discuss how to address these challenges as part of the 18th Annual Meeting of the Independent Accountability Mechanism Network (IAMNet).
In addition to discussing COVID-19-related challenges, this year's gathering also focused on pre-existing issues that the pandemic has exacerbated, including shrinking civic space and unique barriers to access for marginalized communities. As in years past, the IAM-CSO Roundtable gave CSOs supporting communities the opportunity to share feedback with accountability professionals about the effectiveness of DFI accountability systems and potential areas for strengthening outcomes for affected communities.
Adapting Practice in Response to COVID-19
The COVID-19 pandemic has posed serious challenges to engaging with communities experiencing social and environmental harm as a result of internationally financed projects.  This is true both for the IAMs handling their complaints and for the CSOs who support the communities during the process. In particular, restrictions on international travel have caused a major change in how both IAMs and CSOs interact with communities. Given that implementation of harmful projects has not stopped, and communities have ongoing unaddressed grievances, it has been crucial for IAMs and CSOs to adapt their work to ensure that communities still have access to justice. Participants discussed the benefits and drawbacks of virtual engagement and identified that providing technological support to communities will be an important part of work going forward, even beyond the pandemic.
One adaptation that some IAMs found effective was hiring local consultants to help with tasks that require boots on the ground, such as monitoring the implementation of commitments that DFIs have made to communities when there have been findings of noncompliance and harm.  However, participants acknowledged that hiring good local consultants often comes with its own challenges. As travel opportunities open up for IAM and CSO staff, a top priority will be taking precautions to keep communities safe, particularly vulnerable groups who do not have access to vaccines.
Mitigating the Effects of Dwindling Civic Space
The roundtable discussion also addressed the problem of shrinking civic space – that is, physical and digital fora for people to exercise their human rights and core freedoms. Human rights and environmental defenders have faced risks since long before the pandemic, but in many ways COVID restrictions have made it even more difficult for communities to safely express themselves. Participants listed government restrictions on internet access, the registration and monitoring of NGOs, and terrorism legislation around COVID-19 as measures that have limited communities' civic participation. In addition, the fact that communications have had to take place via digital platforms means that for communities with limited access to technology, consultations might involve transporting groups to a location with internet access. This travel can make complainants more visible to actors attempting to silence them.
IAMs can take concrete steps to address the impacts of shrinking civic space. Participants noted that some IAMs are empowered to self-initiate investigations without having to receive a formal complaint, an ability that is especially useful when project-affected people would face a high risk of reprisal for coming forward. Similarly, IAM rules that allow complaints to come from NGOs or other representatives on behalf of communities can help to deflect attention away from community members so that they are not targeted.
Addressing Barriers Faced by Women and Other Marginalized Community Members
COVID-19 has also exacerbated some of the barriers to accessing IAMs that have always faced women, LGBTQ+ persons, and other marginalized groups within communities. Participants cited unequal access to technology and the criminalization of LGBTQ+ identity as some of the factors that make it difficult for marginalized persons to engage remotely, particularly because accessing an internet connection often comes with a lack of privacy. Participants agreed that although it is much easier to organize confidential focus groups for marginalized community members in person, every effort must be taken to ensure that marginalized groups have safe digital spaces to talk about how projects have impacted them in different or disproportionate ways. IAM representatives spoke of how challenging it is to balance wanting to affirmatively reach out to marginalized groups to ensure their participation with the knowledge that such outreach may actually compound risk to those groups. Everyone agreed that the most important objective for both IAMs and CSOs is to not place marginalized groups in an even more vulnerable situation as a result of their engagement.
Next Steps for Advancing Justice
At the close of the discussion, CSOs emphasized the importance of sharing insights from the roundtable with the Boards of the DFIs, who have oversight of IAMs. DFI Boards have a critical opportunity to take lessons from the challenges of COVID to ensure their mechanisms are more accessible and effective for everyone, especially given the likelihood that COVID-19 will continue to impact communities in developing countries for the foreseeable future.
As the pandemic continues, we will continue to collectively address the challenges discussed at the roundtable to ensure that the communities we serve are able to use IAMs as tools for remedy and justice. The lessons learned from the pandemic are also helpful for considering other global developments that can affect complaint outcomes. Learn more about Accountability Counsel's work to address COVID-19 impacts here.