30 September 2020
Empowering communities in Northern Kenya: a knowledge sharing workshop on Independent Accountability Mechanisms (IAMs)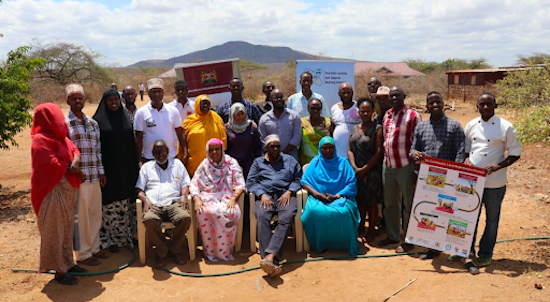 Gotu, Isiolo County
Last week, I met with representatives from organizations in Northern Kenya that are working with communities to protect their land, natural resources, culture, and pastoral rights. Those organizations – from Isiolo, Marsabit, Garissa, Wajir – had expressed interest in learning more about using Independent Accountability Mechanisms (IAMs) in their work with communities impacted by large development and infrastructure projects. After many calls to share about each other's work and identify areas of common interest, I travelled on behalf of Accountability Counsel to meet with representatives of those organizations and to host a knowledge sharing workshop.
The workshop discussion was rich and identified some common challenges faced by organizations and communities in Northern Kenya. While IAM strategies have pros and cons, we found that the existence of this strategy offered some hope to community-based organizations struggling against these challenges.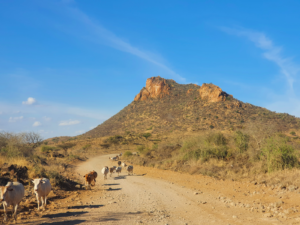 Community Land in Kenya
Northern Kenya, also known as the arid counties, covers 70% of the country and is home to 38% of the population.  The dominant production system in the arid counties, and in some of the semi-arid counties, is pastoralism. Communities move from one area to another through different seasons in search for water and pasture. The communities also ascribe to communal management of natural resources.
The livelihoods of these pastoral communities have increasingly been threatened by the growing rush for their land, which they rely on for livestock rearing. One of the biggest issues they face in this land rush is the dispossession and disinheritance of their lands and natural resources without proper consultation, consent or compensation.
It is because of communities such as these that the Constitution of Kenya addresses Community Land. Article 63 provides for a classification of land known as community land and further provides that community land shall vest in and be held by communities. The Community Land Act, 2016 was thought to be a great step towards securing indigenous communities' land rights in Kenya and an end to the dispossession and disinheritance of their lands and natural resources. The Act provided salient and necessary features such as registration of community land, establishment of a community land registrar and register, recognition of customary land rights, special rights and entitlements in community land, benefit sharing and dispute resolution mechanisms.
However, four years since the Community Land Act came into force, most communities have not achieved the goal of registering and managing their land and resources yet. This is due to the slow implementation of the Act and the fact that most communities are not aware of the law. The organizations that I met in Northern Kenya are among the many that are working towards sensitizing communities and demanding that the government registers and issues certificates of title for land that satisfies the requirements of community land under the constitution and the Act.
"We are wondering why, after so many years, the implementation of the Community Land Act is lagging behind. Some part is because there are private interests that are being put ahead of those of the community." – Abdikadir Hassan, Isiolo Human Rights Defenders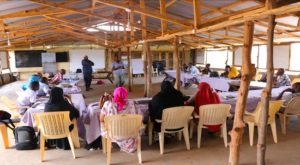 Community fears and concerns
The rush for land in Northern Kenya is the biggest fear for the communities that live there. The rush manifests in the form of private interests, government (county and national) infrastructure projects as well as internationally financed projects. Because those pastoral communities do not have titles and are not recognized as legitimate land owners and users by project implementers, they are not consulted or compensated when the projects are planned and implemented.
Because of the low population density in this large region, the government has earmarked large infrastructure projects such as LAPSSET Corridor Project, the Turkana Wind Power Project, the Turkana Oil Project, the Tana River Irrigation Scheme and the Titanium Mining Project in Kwale County. In all these projects, there was and/or has been little or no consultation of communities living in and around the project areas. Not only are those communities disproportionately harmed, they are also excluded from project benefits. For example, in the case of the Turkana Wind Power project, the communities in Marsabit county are not benefiting from the energy which is distributed via the national grid.
The participants in the workshop reiterated the fact that communities are appreciative of development, especially being minority communities who have been marginalized for many years. However, because of their vulnerability and low bargaining power, communities struggle to demand recognition of their rights from the project companies. It is critical that development is accompanied by true consultation and social consent and that it accommodates their traditional way of life and management of natural resources.
"As a community, we are very happy to see development projects come up, but this development should not cause friction or be in conflict with our way of life and other communities around us." – Jarso Mokku, Drylands Learning and Capacity Building Initiative
IAMs: Another possible strategy
Some of the affected communities have sent petitions and letters to the county and national governments decrying the oppressive nature of the infrastructure projects and the manner in which they are affecting their livelihoods, natural and cultural resources. Some have gone to court on issues such as compensation and benefit sharing formulas to be instituted, but they have faced extensive delays in getting judgements (if any) in this process.
"I think it is important for us to seek and make use of other strategies and processes that are available to get justice for communities. As we monitor and document, let us also advocate and demand from different stakeholders." – Maryama Farah, Natural Justice
During the knowledge sharing workshop, the participants were interested to learn about independent accountability mechanisms (IAMs) as a possible strategy to hold the project companies (and by extension the government or other powerful institutions) accountable for project impacts and to push them to accommodate community interests.
The workshop explained IAMs, the pros and cons of an IAM strategy, and gave examples of cases that Accountability Counsel is already involved in. The participants will then share this information with the communities that they serve. While this strategy will not be right for every case or campaign, it is our hope that knowledge of it will help to empower communities to demand protection of their rights from project implementers and investors.
"Communities have been frustrated, almost to the point of giving up. It is great to learn about this new strategy. It will give hope to communities and our work." – Workshop participant
My work in Kenya
As Accountability Counsel establishes its Africa presence, sharing our knowledge and experience on using IAMs/non-judicial complaint offices is at the heart of my work. It is critical that we are contributing to the development of accountability ecosystems globally (at the international civil society level) and at the grassroots level, especially in regions in which significant financial flows coincide with vulnerable communities. I look forward to expanding and deepening my engagement with communities and organizations, in Northern Kenya and throughout the continent, to ensure that they have access to the information, resources, networks, and contacts that they need to demand accountability and remedy for the harms associated with international finance.