25 June 2020
The Long Road to Remedy Continues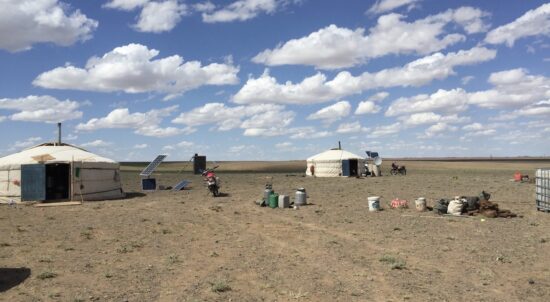 Three years after signing historic agreements with Rio Tinto-backed Oyu Tolgoi (OT) mine and the local government to address impacts of OT's massive mine on their traditional way of life, herders are still waiting for some of the most important promises to be implemented. This delay is not for lack of trying––OT has shown an ongoing commitment to carry out the agreements and has made progress in a number of areas. Yet, implementing over 60 separate commitments at once is not easy. As Accountability Counsel's latest interactive progress report shows, with many commitments still pending, herders' ability to continue their traditional livelihoods hangs in the balance.
Since our last report, the TPC has made real progress by the numbers. Where last year half of all commitments were delayed or not started, now two-thirds of commitments are completed or making progress towards completion. But in some ways, the hardest work has only just begun. Some of the most important commitments meant to address existential concerns for the sustainability of herding in the area––access to water, pasture, and markets––have either not started or only just begun. These commitments are complex and will not be easy to implement well. And without strong transparency and accountability in navigating these challenges, implementation will only be more fraught. One herder expressed her hope on successful implementation of these outstanding commitments saying "It would be nice to be able to stay in our homeland with pasture and water."
The global COVID-19 pandemic has not helped. With reports about the virus coming in from neighboring China, the Mongolian government took steps in January to close down its border and limit travel and public gatherings–making implementation all the more challenging. Many of those restrictions are still in place, or just starting to be lifted. While recognizing the unprecedented nature of the pandemic and the unique challenges it poses, there is much that still can be done to make progress in implementation, and ensure that herders' livelihoods are restored.
Genesis of the agreements and the path forward
The genesis of the agreements stems from the construction of one of the largest copper and gold mines in the world in the middle of the South Gobi Desert–a project that massively disrupted the livelihoods of local herders. The mine displaced herders from more than 50,000 acres of pastureland, shrinking access to both pasture and water, which are essential resources for herding livestock in the arid desert.
In May 2017, a Tri-Partite Council (TPC) comprising elected herder representatives, OT and the local Soum government signed historic agreements with over 60 wide-ranging commitments all meant to restore the livelihoods of herders harmed by the mine and to ensure the sustainability of essential pasture and water resources in the area. At that point, the TPC's work pivoted from years of challenging negotiations to the equally hard work of properly implementing the agreements.
As advisors to the herders, Accountability Counsel has continued to monitor implementation of the agreements to ensure that this historic win translates into real benefits for herders.
A major early achievement came when the mine distributed compensation packages to herder families worth over $1.2 million USD. During in-person consultations in June 2019, many herders who had recently received compensation packages told us that this support helped them improve their financial situation.
"Without water, none of the other initiatives are viable." – Affected herder
However, despite such noteworthy achievements, many herders shared concerns about maintaining their livelihood into the future given persistent perceptions that pasture and water access are worsening. As one herder put it, "without water, none of the other initiatives are viable." Another herder told us he used to live near a shallow well that completely dried up once OT built its mine. This forced him to migrate to another well being used by several other herders which does not provide for all their water needs. Several other herders mentioned pastures being squeezed by roads constructed for the mine and animals being killed by increased vehicle traffic.
Some of the most important provisions of the agreements aim to address these existential livelihood threats, with commitments involving sustaining access to water and pasture and connecting herders to outside markets. Many of these projects have been mired with challenges, even before the pandemic stalled the process, and require dedicated and focused attention to ensure they succeed in a timely fashion.
If herding is to be sustained, pasture and water commitments need greater prioritization. This prioritization seems especially lacking with
water commitments
. The TPC wrapped well-building into a larger project unrelated to Agreement implementation that had other competing priorities. As a result, only 12 wells have been built and 14 exploration boreholes were handed over for herder use instead of the 75+ wells recommended to be built by an independent study.
Progress on pasture commitments has been mixed. OT has made progress on rehabilitating some pastures that were temporarily impacted by mining operations, but there has been almost no progress made on opening new pastures. Plus, an early effort to address crowding issues failed when herders largely rejected a proposed pasture management plan.
Finally, the effectiveness of the agreements requires trust between the parties and with the broader herder community. Transparency and accountability around implementation and the mine's ongoing operations are key cornerstones for building trust with the herding community, but these principles have yet to be prioritized. While OT has completed its obligation to improve its grievance mechanism on paper, we heard from several herders that they do not know when and how complaints should be brought to OT versus to the broader TPC. We also heard from herders that they did not have a lot of information about the TPC's work and at least a couple expressed suspicion that the TPC was not acting to benefit the most vulnerable herders. An independent monitoring body would help with these issues, and the TPC agreed over a year ago to hire one, but it has yet to do so.
The TPC has made real progress and has several accomplishments to be proud of, but the hardest work is still to come. While we recognize the road to successful implementation of the agreements is not an easy one, the TPC must continue to rise to the challenge in close partnership with herders if traditional herding is to be sustained.