14 November 2019
Introducing the Accountability Console: A Database of Human Rights and Environmental Grievances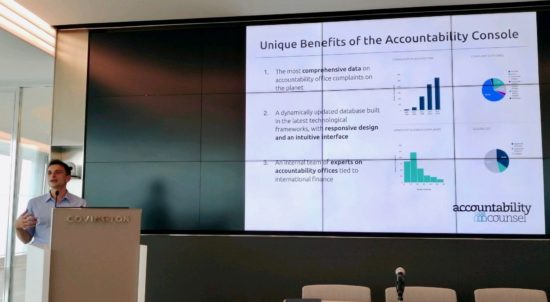 Today we are thrilled to share our new tool, the Accountability Console, with the world. After years in the making and as a result of community-driven demand, this tool provides communities, investors, policy-makers, and researchers with the world's most comprehensive data on all Independent Accountability Mechanism (IAM) complaints.
These complaints provide a body of rare community-level feedback about human rights and environmental grievances tied to internationally financed projects that we can all learn from and act upon. The Console also has deep levels of information and comparative views about every policy governing every aspect of the complaint process at each IAM (it's a feast for data wonks).
We can make discoveries in the data, such as how many complaints filed are getting through the complaint system and achieving a result (too few). We can then uncover bottlenecks in the system and translate those lessons into evidence for policy change––from communities themselves––that better enables communities to be heard. We can see which sectors and regions are showing patterns in the complaint data that can provide learning to prevent harm (let's talk about infrastructure!).
We celebrated the launch of the Console today in San Francisco with a live demo by our Research Director and lead creator of the Console, Samer Araabi, and a panel of contributors including Christy Chin of the Draper Richards Kaplan Foundation (talking about the importance of the Console for foundations and impact investors), Brad Chernin of Covington & Burling (sharing insights about the Console's utility for ESG due diligence and investment research), and our Board Chair Erica Gould of Stanford University (who discussed how groundbreaking this tool is for research that helps understand our interdisciplinary field). Our Communities program lawyers Caitlin Daniel and Robi Mosenda shared how community advocates around the world crave information about the basics of how IAMs work. With this tool, that level of basic process information, as well as layers of rich operational information about the system in practice, are now readily available.
We are looking forward to sharing a series of articles over the coming months showing the learning and action that the Console can facilitate, no matter which hat you wear in the accountability ecosystem. These articles will pull information from the Console to provide powerful insights that will strengthen community campaigns for justice and help investors prevent and redress harm.
We will be offering tailored webinars and trainings for different types of users as people learn about the Console and explore it for the first time. Our first public webinar will be on January 23, 2020 at 10:30am PST/ 1:30pm EST and you may RSVP here.
In the meantime, we invite you to begin an exploration of the Console. This massive project is still a work in progress and will remain so indefinitely, given the quickly developing nature of the data. We welcome your feedback when you see anything that might need our attention.
I'd like to particularly recognize the extraordinary contributions of Accountability Counsel's Research team, Samer Araabi and Marisa Lenci, who have created this state-of-the-art and user-friendly database from scratch. They have been given deep substantive guidance and support from our in-house team of experts, Sarah Singh of our Communities program, and Stephanie Amoako of our Policy program. Thanks too to the many civil society organizations that are part of the International Advocates Working Group that have beta tested this project with us over the past year and given us valuable feedback. This has been a team and community effort and a labor of love. We are thrilled to share it with you.
We encourage our readers to please support the development and sustainability of the Console by spreading the word, becoming a paid subscriber, or donating to Accountability Counsel. As a non-profit organization, we are grateful for your support that allows us to waive user fees for the Console for public interest users on a limited budget, and ensures that our community lawyering and policy advocacy is as impactful as possible.