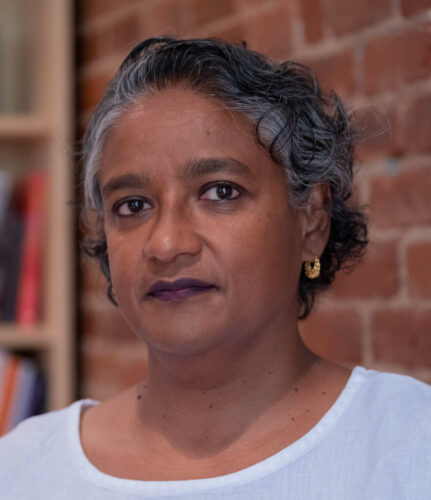 Sujatha Jesudason
Director
Sujatha Jesudason, Ph.D., has worked as an activist, organizer, and scholar for over 25 years in a range of social justice movements. She joined Accountability Counsel's Board of Directors in 2022. She is a leading voice on new practices in movement building, social design and equity, the ethics of reproductive genetics, and gender and racial inclusion.
As Professor of Professional Practice in Management at the Milano School of the New School, Sujatha focuses on innovative approaches to social justice and start-up nonprofit leadership and management. While always appreciative of and learning from the past, she is on a mission to understand and replicate the enabling conditions for leaders to experiment with new approaches to social justice. Working at the intersection of design, innovation, and social justice, Sujatha is building curriculum and programs to support leaders to reimagine social movement tactics and strategies.
Sujatha has worked skillfully with a wide and diverse range of leaders, community members, activists, scholars, researchers, and academics, listening for patterns and trends in order to challenge their habitual ways of approaching large-scale social change and creatively innovate in order to do things differently.
Before The New School, Sujatha was the Executive Director of CoreAlign, a reproductive justice organization, which she founded in 2012, to teach design for social change to frontline activists. With a focus on race and power, she developed a model and approach to social justice innovation that attends to interpersonal group dynamics, collaboration, and impact. Before that, she was the founder and Executive Director of Generations Ahead where she worked to raise awareness of the social justice implications of new human genetic technologies, fighting the specter of a more modern, technological and biological eugenics.
Sujatha has also worked as an organizer for reproductive justice in the Asian American community and for paid family leave in Milwaukee, and as a trainer and advocate against domestic violence in the South Asian American community.
As a consultant, she designs and facilitates complex, multi-stakeholder collaborations, advises on integrating equity and inclusion in organizational practices, and works with organizations interested in integrating design and innovation into their social change work.
She has published several articles and book chapters on intersectionality and reproductive genetics and appeared in the NYT. Her current writing project focuses on power and freedom, and resistance to vulnerable feminized embodiment through martial arts.
She holds a Master's and a Ph.D. in Sociology from the University of California, Berkeley, and an undergraduate degree in Economics and Latin American Studies from the University of Wisconsin, Madison.