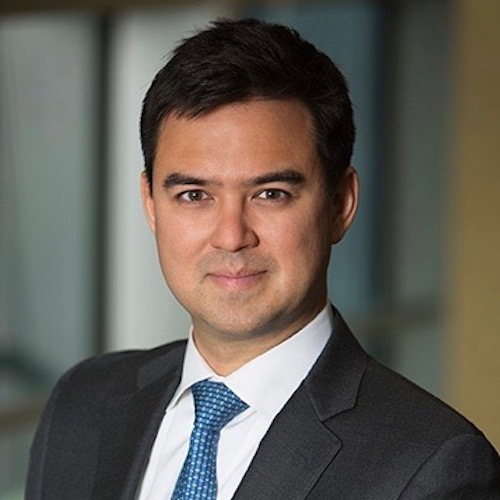 Andrew Dickson
Board Secretary
Andrew Dickson is Managing Director and Corporate Secretary of BlackRock, Inc., the world's largest asset manager, and manages a team of lawyers and governance professionals in the legal and compliance department. He is responsible for providing legal counsel on BlackRock's strategic transactions, corporate finance, SEC reporting, investor relations, and corporate governance activities. As the Corporate Secretary of BlackRock he advises BlackRock's Board of Directors on its role and responsibilities, assists the Board in monitoring corporate governance developments, oversees the Board and committee meeting processes, and engages with BlackRock's shareholders.
Prior to joining BlackRock, Andrew was a corporate attorney with the law firm Davis Polk and Wardwell, LLP in its offices in New York and Hong Kong. Prior to attending law school, he served as a Foreign Service Officer with the United States Department of State in a variety of diplomatic roles, including posts overseas in Syria and Taiwan and as a political officer on the "China Desk" at the Department of State, where he covered human rights and rule of law matters. In 2004 he served in Karbala, Iraq as the Coalition Provisional Authority's principal liaison to the local Iraqi government and tribal leaders. In that capacity he led strategic initiatives to promote civil society and coordinated reconstruction and infrastructure projects with the joint coalition military forces and the Iraqi government.
Andrew earned a Bachelor's degree in international relations with highest honors from the College of William and Mary and a Juris Doctorate from the University of California at Berkeley. He is a Truman National Security Fellow, a graduate of Echoing Green's Direct Impact Program, and serves as a mentor to members of the U.S. armed services considering career transitions to government service or the private sector. A specialist in corporate governance, he is a member of the Advisory Committees of the New York Chapter of the Society of Corporate Governance and the Securities Law Committee of the New York City Bar Association. He is fluent in Mandarin Chinese and lives in Brooklyn with his wife and two children.