30 November 2021
Addressing COVID-19 and Corporate Accountability in Africa: Readout from the 2021 ACCA General Assembly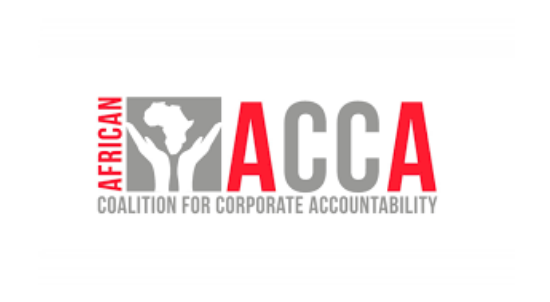 On November 24 and 25, Accountability Counsel joined the African Coalition for Corporate Accountability (ACCA) at their 2021 General Assembly (GA) in Pointe-Noire, Republic of the Congo. The theme for the GA was "COVID-19 and Corporate Accountability in Africa," providing an opportunity for members of ACCA to discuss what the pandemic has meant for their work with communities and insights into challenges they have faced. The gathering was also a forum to address ways in which members have managed to continue the fight for justice for African communities.
ACCA, a long standing strategic partner of Accountability Counsel, is a coalition of organizations based in Africa supporting communities and individuals whose human rights are adversely impacted daily by the activities of corporations, both multinational and domestic. To date, there are 132 member organizations from 31 African countries. The GA brought together 30 representatives from organizations in South, East, Central and West Africa who attended physically and over 70 representatives who joined online.
The participants acknowledged that the pandemic has seen communities face more serious harm from development-related projects that have continued throughout the pandemic, although much of it was not monitored and/or documented because of the focus on the pandemic. Many civil society organizations were thrown into emergency response mode, shifting to COVID-related projects and support for communities, which limited their ability to monitor development projects. Due to COVID-19 restrictions on travel and limited engagements, development institutions have also not monitored their projects as closely.
"This pandemic has seen the worst forms of human rights abuses on communities, especially with regard to their land and natural resources – we have seen killings, torture, and mass arrests of human rights defenders." – ACCA member
One of the biggest challenges that they have faced is the disturbing shrinking civil society space and retaliation on organizations that work in the area of business and human rights and support for communities on their land and natural resources. Accountability Counsel has experienced this trend as well, with some of our partners being unfairly suspended for the work that they do. However, even with this challenge, it was impressive to hear the resolve and commitment of these organizations to make sure that they keep supporting communities.
"We have heavily been affected but the work must go on, and so we have found other creative ways to support communities." – ACCA member
Accountability in Africa Report
The GA presented an opportunity for us to present the findings and recommendations in the Accountability in Africa: Harm from International Financial Flows and Strategies for Supporting Community-Led Access to Remedy (also available in French) report which we launched with ACCA on December 10, 2020. While the report is not focused on the COVID-19 pandemic, the challenges to addressing corporate accountability posed by the pandemic make the report's recommendations even more pressing.
The report examines harm from international financial flows with insights into the nature of this harm and the actors behind the projects. It also sets out case studies of communities that have been affected by these projects as well as available venues for access to remedy.
ACCA members acknowledged the huge challenge of getting remedy for harm caused by governments and corporations through courts. Along with pre-existing hurdles, the pandemic created new challenges because of the limited capacity of courts and restrictions presented by COVID-19 protocols put in place by different governments and institutions to manage the spread of the pandemic.
For civil society organizations that used litigation as their main avenue for remedy, they had major challenges of delays and backlogs and in some instances, courts not being able to sit and hear cases at all.
During a GA session on the report, our Communities Associate, Africa, Robi Chacha Mosenda, provided a background and a brief insight into the report and spoke on the need for people to use non-judicial mechanisms. Robi spoke on the need to follow the money and hold the financiers accountable through independent accountability mechanisms tied to international financial institutions and the National Contact Points mandated for the OECD states. He also reiterated the recommendations in the report, which are based on experiences from communities and civil society actors:
The need for investors to expand the availability and improve the effectiveness of non-judicial accountability frameworks;
Communities having the benefit of increased advocacy support – with greater awareness, knowledge and resources – alongside legal protection from retaliation;
The need for stakeholders to focus on actual remedy, in addition to access to remedy: commitments must be backed up by resources (funds) and consequences for inaction; and
Prevent harm through community-led decision making.
Gerald Kankya from Twerwaneho Listeners Club, Uganda (TLC), which supports communities to defend their land and natural resources in Uganda, spoke on using the independent accountability mechanisms of the African Development Bank (AfDB), the Independent Recourse Mechanism, and that of the World Bank, the Accountability Mechanism, to support communities that have been affected by projects funded by these institutions.
He shared that they have seen more engagement since reaching out to the independent accountability mechanisms than when they used litigation or advocacy with the government.
TLC is supporting communities affected by the Lakes Edward and Albert Integrated Fisheries and Water Resources Management Project (LEAF II) by the AfDB and the World Bank's Securing Uganda's Natural Resource Base in Protected Areas – both projects that have had serious impacts on the Indigenous communities living around the projects areas.
Aby Dia from Lumiere Synergie Development spoke on their work in using the AfDB's Independent Review Mechanism and OECD National Contact Points to raise concerns on the Sendou coal plant project in Senegal, which posed environmental and livelihood risks to coastal communities. She reiterated that, while there are challenges and gaps with these accountability offices, they have provided a better avenue for communities to engage with and obtain remedy.
Knowledge Sharing
Finally, Accountability Counsel used the opportunity of the ACCA GA to engage in knowledge sharing with civil society partners. Our knowledge sharing work takes different forms including research, training and capacity building, and light support on cases. Knowledge sharing can develop the capacity of communities, organizations, human rights activists and defenders to use non-judicial mechanisms to access remedy for harm caused by internationally-financed projects, while expanding the experience of advocates whose own learning from communities helps support others.
Accountability Counsel applauds and appreciates the ACCA secretariat and steering committee for convening a successful General Assembly and empowering its members to support communities across Africa.