22 September 2020
Ukrainian Communities Support Recommendations for Strengthened IFC Accountability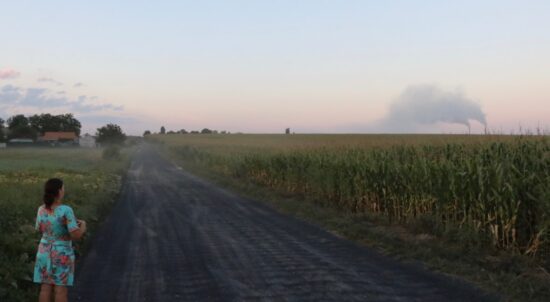 The people most directly affected by the eventual outcomes of the external review of environmental and social accountability at the International Finance Corporation (IFC) are the people on the ground: the communities whose health, livelihoods and environment are exposed to the risks and impacts of the projects in which the IFC invests. Communities like those in Vinnytsia, Kleban, and Zaozerne in Ukraine, who have repeatedly raised concerns about inadequate information and negative environmental and social risks posed by an IFC-supported poultry mega-farm. In 2018, members of those communities filed a complaint to the IFC's accountability mechanism, the Compliance Advisor/Ombudsman (CAO), seeking information and input into project design. They remain in dialogue with the project company, MHP, facilitated by the CAO.
It is critical for such communities that the IFC's commitment to environmental and social sustainability and accountability is real: that it is backed by strong internal policies and procedures, a robust CAO and, importantly, a commitment to providing remedy when things go wrong. For that reason, Ukrainian community representatives, together with civil society partners CEE Bankwatch and Ecoaction, made the following submission to the Board, supporting the recommendations from the external review team:
"We are complainants to the CAO since June 2018. Our complaint is about the risks and impacts of the Vinnytsia Poultry Farm, the "largest poultry farm in Europe", funded by the IFC. CEE Bankwatch Network and its Ukrainian member Group, Ecoaction, support us as advisers. In response to the complaint, the CAO agreed to facilitate an ongoing dialogue process between complainants and MHP, the company behind the poultry farm.
We believe that the IFC needs to strengthen its commitment to accountability by changing its own policies and by supporting a strong and independent CAO. We strongly agree with the report's recommendation that the IFC should support clients with "high-quality" E&S advice and use its leverage over clients to meet responsibilities under the Performance Standards when harm occurs. We also support the recommendation that the IFC and its clients provide remedy for harms caused by IFC projects. We expect the IFC to respond to the recommendations in the report with urgency and in good faith. We look forward to being included in the development of new policies and procedures through public consultations.
Ми є скаржниками CAO з червня 2018 року. Наша скарга стосується ризиків та негативних впливів Вінницької птахофабрики, «найбільшої птахофабрики Європи», заснованої МФК. Мережа Банкшатцх Центральної та Східної Європи та її українська група-член Екодiя підтримують нас як радників. У відповідь на скаргу САО погодилися на роль фасилітатора процесу діалогу між скаржниками та МХП, компанії, що є власником птахофабрики.
Ми вважаємо, що МФК повинна посилити свої зобов'язання щодо підзвітності шляхом зміни власних політик та підтримки сильного та незалежного САО. Ми рішуче погоджуємося з рекомендаціями звіту щодо того, що МФК слід підтримувати клієнтів із високим рівнем екологічних та соціальних стандартів та використовувати свій вплив щодо Стандартів Ефективності в разі настання шкоди. Ми також погоджуємося із рекомендацією, що МФК та її клієнти повинні відшкодовувати збитки, нанесені проектами МФК. Ми очікуємо негайної та сумлінної відповіді МФК на рекомендації. Ми сподіваємося бути залученими до розробки нових політик та процедур шляхом публічних консультацій."
Accountability Counsel joined with over 40 organizations to comment on the final report of the external review and will continue to push for transparent, inclusive consultation as its recommendations are considered, adopted, and implemented. For these and other comments on the external review, please see:
For more information about the Ukrainian communities' complaint to the CAO, please visit this page on our website.