10 July 2020
Welcoming Three New Board Members in 2020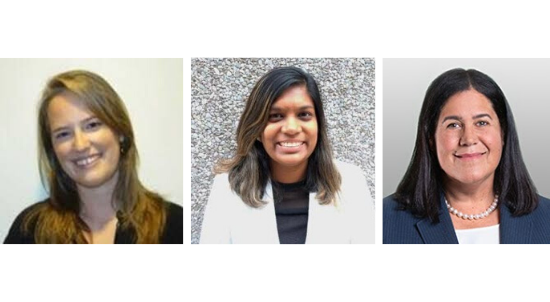 We are delighted to announce three talented women joining Accountability Counsel's Board of Directors in 2020: Caroline Bressan, Niranjali Amerasinghe, and Carolyn Rashby. Caroline, Niranjali, and Carolyn bring a diverse range of skills and talents, with expertise ranging from advocacy around equity, climate finance, and human rights, to philanthropic experience supporting organizations to scale and thrive.
Caroline brings a depth of experience in philanthropy and impact investment to our Board. She is Managing Director of Open Road Alliance, a private philanthropic initiative that helps the social sector respond to unexpected roadblocks to keep impact on track. Prior to Open Road, she worked at D. Capital and Calvert Impact Capital, with a focus on Sub-Saharan Africa and Latin America respectively. She also sat on the investment committee of the Haitian Emergency Liquidity Fund, created to provide funding to microfinance institutions in the aftermath of the 2009 earthquake.
Niranjali brings a wealth of substantive expertise, strategic vision, and global perspective to our Board from a career working at the intersection of climate change and human rights. She is Executive Director of ActionAid USA, an international federation building a just, equitable, and sustainable world in solidarity with communities on the frontlines of poverty and injustice. Previously, she was Senior Associate in the Sustainable Finance Center at World Resources Institute and directed the Climate & Energy Program at the Center for International Environmental Law (CIEL).
Carolyn is an employment law attorney who will provide valuable governance skills to our global organization. She is Of Counsel at Covington & Burling, with a specialization in employment issues and human resources. Previously, she was a Partner at Miller Law Group and served on the Governing Board of Directors for the Northern California Human Resources Association.
Thank you for joining us in extending a warm welcome to our newest Board members, joining our team working to amplify the voices of communities to protect their human rights and environment.