19 December 2017
Open Letter to Salvador Alejandro Menéndez García, Mayor of San Luis Talpa, El Salvador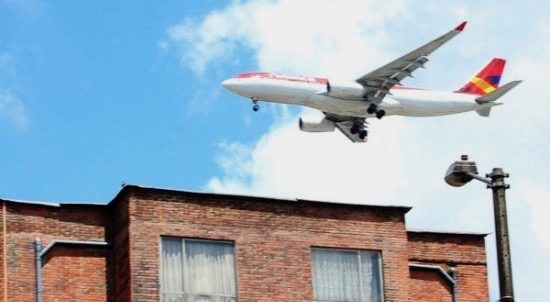 Today, representatives of the communities of Fontibón in Bogotá, Colombia wrote an open letter to the mayor of San Luis de Talpa in El Salvador where an airport expansion project is underway. The residents of Fontibón live adjacent to the El Dorado International Airport in Bogotá, which was expanded through investment by the Inter-American Development Bank. The bank and its clients in the airport expansion project failed to adequately address the increase in deafening noise pollution caused by the second runway and the communities surrounding the airport have experienced health and livelihood impacts. The community representatives encouraged Mayor Salvador Alejandro Menéndez García to consider carefully all the impacts of the San Salvador international airport expansion project on surrounding communities. The mayor recently met with representatives of the Inter-American Development Bank and the Colombian community representatives are hopeful that residents of San Luis de Talpa can benefit from the lessons learned in their case.
Comunicado de prensa
19 de Diciembre 2017
Comunidad Colombiana Advierten al Alcalde de San Luis de Talpa Sobre Riesgos en el Desarrollo de los Aeropuertos Salvadoreños
Bogotá – Representantes de las comunidades de Fontibón, una localidad del Bogotá, Colombia con más que 300.000 residentes, hoy enviaron una carta abierta al alcalde municipal de San Luis de Talpa, Salvador Alejandro Menéndez García, sobre el desarrollo de los aeropuertos salvadoreños. Fontibón colinda con el Aeropuerto Internacional El Dorado, uno de los tres aeropuertos más utilizados en Latinoamérica.
Los residentes de Fontibón se enteraron de las reuniones recientes que tuvo el alcalde con el Banco Interamericano de Desarrollo ("BID") y otras entidades involucradas en el desarrollo del Aeropuerto El Dorado para compartir lecciones de se debe hacer (y no se debe hacer) con proyectos similares en El Salvador. Los residentes aledaños del aeropuerto en Bogotá han sufrido mucho por cuenta de los responsables involucrados en el aeropuerto, quienes fallaron de protegerles de la grave e incesante contaminación acústica generada por el aeropuerto.
La larga historia de ruido excesivo es un problema que ha ido empeorado por el proyecto de ampliación del Aeropuerto El Dorado. Este junio de 2017, una oficina independiente de rendición de cuentas del BID confirmó que el banco no hizo lo suficiente para investigar, mitigar y monitorear los graves impactos del ruido en la salud y bienestar en las comunidades afectadas cuando financió la ampliación del aeropuerto.
Los residentes de Fontibón quisieron verificar que el alcalde hiciera todo lo posible por proteger la gente que viven al lado de los aeropuertos de San Salvador – incluyendo solicitar la perspectiva de estas comunidades, comprender y gestionar eficazmente los riesgos asociados con ruido e implementar las medidas de mitigación de acuerdo con las mejores normas internacionales. Quisieron asegurarse de que el alcalde aprenda de los errores del BID y que ninguna otra comunidad sufra como ellos.
Lea la carta completa aquí.