5 December 2017
Advocating for Corporate Accountability at the United Nations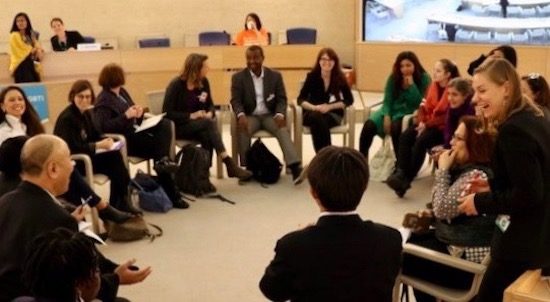 Accountability Counsel advocated for improved accountability for corporations at the 2017 United Nations in Geneva during the annual UN Forum on Business and Human Rights in late November. In line with this year's theme "Realizing Access to Effective Remedy," our team participated in panels and discussions to demonstrate the obstacles communities face as they seek justice and tangible remedy for abuse they have suffered at the hands of corporations and their international financiers.
Panel 1: The Road to Remedy
Along with our partners in the International Advocates Working Group (IAWG), we collaborated with the Independent Accountability Mechanisms Network (IAMsNet) on a panel to demonstrate how long the road to remedy can be for a community harmed by a company, even when they have support from organizations like Accountability Counsel.
Sukhgerel Dugersuren, one of our partners from Mongolia, shared the journey of herders hurt by Oyu Tolgoi, a Rio Tinto mine, as they filed complaints with accountability offices tied to the banks that financed the mine. Sukhgerel is the executive director of Oyu Tolgoi Watch, a Mongolian civil society organization that advocates those impacted by the mine. She discussed the burden that the herding community in South Gobi faced before they could file complaints and the key differences between the cases with the Compliance Advisor Ombudsman (CAO) and the Project Complaints Mechanism. After four years of negotiations, the complaint to the CAO has resulted in commitments from the mining company to the herders.
Representatives of business and independent accountability offices from several development banks joined Sukhgerel along the journey.
At the last "stop" on the road to remedy our South Asia Director Anirudha Nagar demonstrated just how challenging the journey to justice is for communities. He discussed our ongoing work to achieve justice for tea workers in Assam, India. The complaint filed in this case resulted in a CAO compliance report that found the International Finance Corporation (IFC) had failed to live up to its own standards in its investment in tea plantations. Despite this report, the IFC has yet to consult directly with workers and make meaningful change in their lives.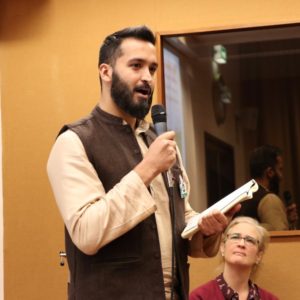 Anirudha (pictured left) and our partner Jayshree Satpute of Nazdeek wrote in Open Democracy about the accountability gap between Geneva and Guwahati, where tea workers were demonstrating for fair wages at the same time as the UN Forum.
Panel 2: Lawyers in the Lead 
Our Policy Director Kindra Mohr (pictured below) participated in a spirited discussion about the role of lawyers in communities' quest for remedy from human rights and environmental abuses. In a panel, sponsored by the International Senior Lawyers Project, Kindra discussed Accountability Counsel's approach to empower communities to effectively use accountability offices to seek justice. She was joined on a rare "all female panel" by Rocio Paniagua, Senior Legal Advisor for the International Bar Association and Yasmin Batliwala, Chief Executive, Advocates for International Development.
Communities that are vulnerable to environmental and human rights abuses often have the fewest resources to defend themselves. They lack access to information about the project, the standards of social and environmental protection that apply to project financing, and options (if any) for recourse as a result of potential or actual harm. Legal professionals are a critical part of equalizing the power dynamics of international investment, giving vulnerable communities the kind of support they need to raise their voices, defend their rights, and demand justice.
 Accountability Counsel reflected on all the roles that lawyers have played in assisting communities in development finance matters in a piece on ISLP's website.
Panel 3: Respecting Human Rights Defenders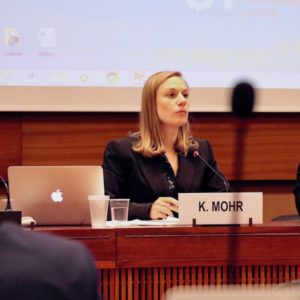 Kindra also led an important breakout discussion with human rights defenders as the UN Working Group on Business and Human Rights sets about developing guidance for business on how best to respect and support these defenders. Human rights defenders from around the world took part in this panel, including Shipibo Indigenous leaders from Peru, where Accountability Counsel has worked in the past to bring a complaint about the conduct of an oil company that received IFC financing. Kindra facilitated a discussion on the role of international and regional accountability systems and how they can be tools to ensure that human rights defenders can do their work to demand respect for rights without the threat of retaliation.
Collective Advocacy: Improving the National Contact Points
Accountability Counsel continues to advocate for better accountability for corporate harm, particularly through the National Contact Points (NCPs), accountability offices connected to member nations of the Organisation for Economic Co-Operation and Development (OECD). During the forum we gave a progress report on our joint project with the International Corporate Accountability Roundtable and OECD Watch analyzing whether efforts to improve the NCPs are truly making them more effective. Read more about what we found here.