7 June 2017
Report Links Colombian Airport Expansion to Health Harm: Airport Operators and Investors Must Act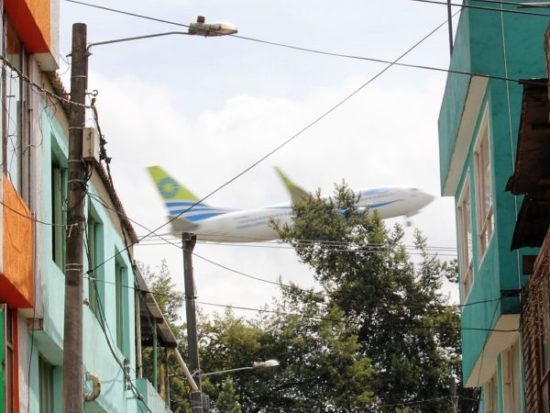 Sign our petition to tell airport operators and investors to act.
*Para una versión española, vea a continuación*
On 5 June 2017, the independent accountability office of the Inter-American Development Bank confirmed that the bank did not do enough to protect neighboring communities from serious harm when it funded the expansion of El Dorado International Airport in Bogotá, Colombia. The noise pollution suffered by those communities is grave and relentless from the takeoff and landing of military as well as commercial aircraft at one of Latin America's busiest airports. Noise is a long-standing problem that has been made worse by the airport's expansion.
The report reads like a laundry list of failures to recognize the human cost of the expanded airport.
"During its visit to the Project area, the Compliance Review Panel … was able to experience firsthand not only the impact of the noise on the daily life of residents (such as the need to interrupt a conversation or classroom activities when airplanes take off and land because it was impossible for the other person or the teacher to be heard, or the vibrations caused by some aircraft), but also the discomfort produced in some homes by the soundproofing, which in the Panel's experience is in poor condition, does not really reduce noise, and prevents, among other things, ventilation in the homes." (Independent Consultation and Development Mechanism (MICI) Report, paragraph 2.99)
Comunidades Unidas, a community organization representing Fontibón residents, has been fighting for years for recognition of these mistakes. They feel vindicated by the report's conclusions.
However, despite the strength of these findings, the bank does not plan to take any meaningful steps towards fixing the problems in Bogotá. The loan taken by OPAIN was repaid early and there is no longer a contractual relationship between the bank and the company. The bank failed to adopt MICI's recommendation that the bank work with relevant Colombian authorities to analyze ways to improve the sustainability of the airport, claiming that such action is out of its hands. However, an institution with as much wealth and influence as the Inter-American Development Bank knows no such barrier. The only barrier is continued indifference to community suffering.
So, the work of Comunidades Unidas – with support from partners, including Accountability Counsel and BankTrack – continues:
Together, we will continue to push for a long-term noise management plan that protects community health and wellbeing. And we will continue to demand that community voices are an essential part of that conversation.
Informe vincula la ampliación del aeropuerto colombiano con el daño a la salud humana
Firme nuestra petición para demandar acción de los operadores y los inversionistas del aeropuerto.
El 5 de junio de 2017, la oficina independiente de rendición de cuentas del Banco Inter-Americano de Desarrollo confirmó que el banco no hizo lo suficiente para proteger a las comunidades vecinas del grave daño cuando financió la ampliación del Aeropuerto El Dorado Internacional de Bogotá, Colombia. La contaminación acústica sufrida por estas comunidades es grave y incesante, generado por el aterrizaje y despegue de aviones comerciales y militares en uno de los aeropuertos más ocupados de Latinoamérica. El ruido es un problema con una historia larga que ha sido empeorado por el proyecto de ampliación.
El informe revela un historial de faltas en reconocer el costo humano del aeropuerto ampliado.
"El Panel de investigación, durante su visita a la zona del Proyecto … pudo experimentar de primera mano no solamente el impacto del ruido en la vida cotidiana de los vecinos, al por ejemplo tener que interrumpir una conversación o una clase escolar durante el despegue o aterrizaje de un avión por la imposibilidad de entender al interlocutor o al profesor, las vibraciones que causan algunos aviones, así como las incomodidades que generan las medidas de insonorización de algunas viviendas, que en lo experimentado por el Panel se encuentran en malas condiciones, no tendrían un efecto reductor real del ruido, y no permiten, entre otras cosas, ventilación de las viviendas." (Informe de MICI, párrafo 2.99)
Comunidades Unidas, una organización comunitaria que representa los residentes de Fontibón, han estado luchando hace años para lograr el reconocimiento de estos errores. Se sienten vindicados por las conclusiones del informe.
Sin embargo, a pesar de la fuerza de estas conclusiones, el banco no planea tomar ningunos pasos sustanciales para reparar los problemas en Bogotá. El préstamo a OPAIN fue reembolsado temprano y ya no hay una relación contractual entre el banco y la empresa. El Banco falló en adoptar la recomendación de MICI que  el Banco trabaje con las pertinentes autoridades colombianas para analizar vías para fortalecer la sostenibilidad ambiental y social del aeropuerto, diciendo que tal acción es fuera su control. Pero una institución con tanto riqueza e influencia como el Banco Inter-Americano de Desarrollo no conoce tal barrera. La única barrera es la indiferencia continua al sufrimiento de las comunidades aledañas.
Por eso, el trabajo de Comunidades Unidas — con el apoyo de aliadas incluyendo Accountability Counsel y BankTrack — continúa:
Juntos, vamos a continuar a demandar un plan de la gestión del ruido del plazo largo que proteger pública salud y bienestar. Además, vamos a seguir a demandar que las voces comunitarias sean una parte esencial de esta conversación.
For more information see our case page / para más información vea aquí.